The world's thinnest external hard drive may be catwalk-ready, but can it handle a load of full-fat files crammed into its svelte frame?
We had a pretty good idea that they were coming, and now Sony have confirmed that two new PS3 models are on their way to stores, both offering considerably more storage space. Revealed at Sony's Gamescom press conference, a 320GB…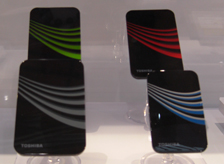 Toshiba's been kicking around the mobile storage industry for a good few years now, so it's refreshing to see them update their line with something visually appealing, and also with a worthy claim. Yep, it's another 'World's most…' product.
Take a deep breath – these 320GB HDDs are the world's highest-capacity 2.5″ storage device. Not as impressive…