Ladies and gentlemen! Roll up! Roll up! The gadget freak show is in town! Here, behind a wall of steel for your safely, is the Silicon Mountain Allio – a 32″ or 42″ HDTV that also squeezes a Core 2 Duo PC and Blu-ray player into its case.
It even manages PVR-like recording features thanks to its PC bit's hard drive. Plus you can split the screen if your brain's capable of multitasking and you want to watch TV, browse the internet and play video games simultaneously because you're THAT CONNECTED. Here's a look at the beast…
Careful, she's hungry! The 42″ model does the full 1080p spec, with the…
Turns out that the vast majority of virus attacks are against badly-written third-party software, rather than Windows itself. So claims Microsoft, anyway, in the graph to the right. In XP, 58% of attacks target third party software, and in Vista, 94% target third-parties. The most popular targets are Apple's Quicktime, Realplayer and Winzip.
When you drill down to the top ten browser vulnerabilities, Microsoft admit that they account for half of the biggest flaws on XP, including by far the top one, but on Vista, they don't feature in the top ten at all – the number one place goes to a bit of software called Baofeng, which I suspect is a toolbar of some sort…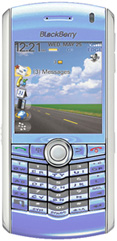 More rumours are floating about the intertubes regarding the BlackBerry Pearl 2 we reported on a week ago, this time with even more pants-wettingly attractive features than before. Plus, the internal code-name has been leaked also – Komet. Kind of like a poor man's reindeer, non?
It was first thought that the Pearl 2 would have a 2-megapixel camera, but it's since been reported by Boy Genius Report that it's even better than that – a whopping 3.2-megapixels will ensure your upskirt-shots will be crystal clear and jail-worthy. However it won't be as subtle to take photos as before, as the camera will be located horizontally on the Pearl 2, much like the high-end camera phones which like to masquerade as proper digital cameras…