City Mapper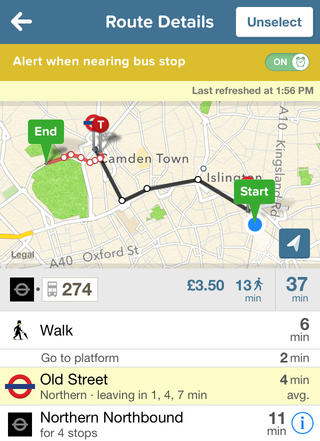 City Mapper is perhaps one of the greatest achievements in
human history. Or maybe I'm just a little bit in-love with it given how easy it
makes moving around the capital. It's a journey planning designed specifically
for the capital - and it's so very clever.

Rather than simply figure out how to get from A to B via Tube, Bus, Train,
Bike or Taxi, it will also feed in real time transport data - so knows when the
Northern Line is experiencing severe delays, or on weekends, the inevitable
engineering works.

It also mashes up real time bus stop countdown data - and can tell you how
far away a bus is from a stop at any given time.

There's lots of nice little additions too - for example, it'll estimate the cost of
getting a black cab to do the journey, so you'll know whether it's going to be
priced outrageously, or merely extortionately.

It's an essential purchase.
Share
If you live within the M25, then you're lucky enough to live in the greatest city in the world. Sure, London is shunned by some – having recently been voted the crappiest place to live in the UK. But those people are idiots – for every murder and delayed train there's a cultural gem that wouldn't find pretty much anywhere else in the world. And besides – our phones can help us appreciate London life, can't they? Here's our pick of the best iPhone apps for Londoners.
CHECK OUT OUR LATEST 360 VIDEO WITH THE KODAK PIXPRO BELOW