Tweetbot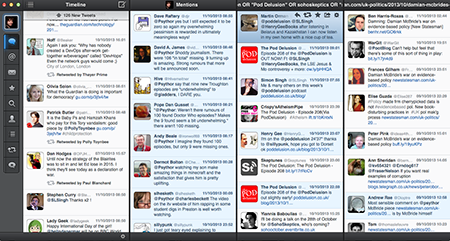 If I were making a list of the one best alternative to Tweetdeck,
Tweetbot would be on it.  Available for Mac OS, in addition to iPhone and iPad,
it's a polished experience on all three. The desktop version is a little pricey -
at £13.99 doing what many clients do for free, but it's worth every penny.
Tweetdeck-style columns, multiple accounts, search columns, auto-complete,
photo upload… and just relentlessly lovely to use.

Mercifully they released it a few months before the old Adobe AIR Tweetdeck
was killed off so I had a nice transition period - the quickest way to get over
my Tweetdeck grief.

Share
There's been a murder – but like an African military dictator in London on a state visit, we know who did it, but there's not a lot we can do about it. A few months ago Twitter finally killed off the old, long abandoned Adobe AIR Tweetdeck client when it changed how user authentication works. With it, it took out the great Twitter client ever. And if you're a power Twitter user, no doubt you've been in mourning ever since. The stages of grief are well documented though – and at some point it really is time to move on. So here's our pick of the best Tweetdeck alternatives.
CHECK OUT OUR LATEST 360 VIDEO WITH THE KODAK PIXPRO BELOW