Review: Samsung Galaxy S4 Zoom mobile phone/camera
Share
Type: Android smartphone (Jellybean 4.2.2) with 10 x optical zoom lens
Specifications: Click here for full specs
Price as reviewed: £399 (without contract)

A jack of all trades smart phone with a built in compact camera complete with optical zoom lens, the Samsung S4 Zoom is unique alright. But can it be possibly be the master of two very different disciplines. Read on to find out…

Is it a camera, is it a phone? I still don't know
Having been a loyal iPhone fan for many years, I must admit it has been difficult to consider being unfaithful. After all she was so beautiful when I first met her and all my friends seemed to love her. But just recently she seems to have let herself go a bit and then all these attractive new models keep turning my head.
And although I haven't been tempted by the big Phablet beasts I must admit having secretly lusted after this design for a few weeks – lured by newspaper ads and the thought of having a decent enough smart phone with a camera that is, on paper at least, better than anything else on the market.
That was until I held the Samsung Galaxy S4 Zoom in my hand for the first time and began to wonder what the hell I'd done. Don't get me wrong, it's a brave concept and for that it must be applauded. It's just I'm still not sure I made the right choice to leave the iPhone. Here's the deal; on one side the S4 Zoom is really just a Samsung Galaxy S4 Mini, while flip it over and basically it's a compact camera with a decent-ish 10x optical zoom.
Get it out in a meeting lens side up as I did the other day and people will automatically assume you are taking their picture and start grinning. Put it in your pocket and people really will think you are pleased to see them, especially with the zoom lens out! Even with the zoom lens in it's a pretty bulky beast. Samsung claims it is just 125mm thick, but that doesn't include the metal housing for the lens or the grip handle which adds another 100mm or so. Nor is it light either. Tipping the scales at 208g, it's even heavier than the Nokia Lumia 920. Certainly I found it quite heavy in the hand when out running with it using the Nike Running app.
Thanks for the memory – not
Yet despite its bulkiness I am enjoying using the Galaxy S4 Zoom. Screen resolution isn't the highest at 256 pixels per inch (compared to the iPhone's 326ppi and the HTC 1's 469ppi) but I certainly haven't had any issues reading text or even looking at pictures. Perhaps the screen has a little more contrast than I am used to, but this is a problem I find with all Samsung devices which seem a little 'zingy' to me.
One thing's for sure, Android is very different to the Apple iOS and this has taken a lot of getting used to. Whereas Apple tends to offer limited functionality and keep you locked into their eco-system, with Android (this is running Jellybean 4.2.2) there are options for just about everything which means endlessly sifting through menus to get things how you want.
One big criticism I would have though is the lack of storage on the device. The Samsung Galaxy S4 Zoom has just 8GB on board which is a bit crazy, given this is a phone aimed at photo and video enthusiasts. By the time I'd added my music, image and small video library I'd filled up the memory entirely. This was before adding any apps from the Google Play store. This
meant a trip out to Maplin to invest in a 64Gb Micro SD storage card (an extra
£60 on top of what's already a £400 phone). Processing speed isn't the fastest either meaning internet pages
don't always load up quickly even on a decent speed wi-fi connection (to be
honest that's true of the iPhone too). Rather than a quad core processor
favoured by many of the latest smartphones, the Samsung Galaxy S4 Zoom comes
with a dual core processor running at 1.5GHz. So it does feel a little slower than I was expecting.
Say cheese!

Curiously for a device that's supposed to be half phone, half
camera, actually switching the camera on is quite difficult. Unlike a compact
camera where you just have to press a button to take a picture, with the Galaxy
Zoom you either have to boot up the phone or – if it's already on – press the
camera icon or hold the shutter button down for several seconds.
Whichever way you do it, it takes well over five seconds to even
get the lens open and ready to take the picture (not great for photographers taking spontaneous shots). That said, the camera isn't
half bad at all once it's ready. Obviously this is the only camera phone on the
market with optical zoom lens so it's difficult to make direct comparisons. Perhaps
the nearest model on the market is the 41 Megapixel Nokia Lumia 1020 and
although the Nokia offers much higher resolution on paper, the reality is that it's still better
to have a proper zoom lens than having to artificially crop from a larger image.
In the couple of weeks since getting the phone I've spent a lot of time taking pictures with it and have been happy with the results. One criticism I would have is that it does feel a little slippy in the hands, not helped by the glossy white finish. Taking pictures of The Thames I was terrified that I was going to drop the device in the River – hence I've already ordered a silicone case to give me a bit more grip.
Various photographic modes are provided including Night mode (good for taking pictures in low light conditions where flash isn't appropriate – ie. gigs), Macro (for close ups, see flowers below) and even a Beauty Mode where you can enlarge people's eyes and make them look a bit thinner – a bit gimmicky that one I thought.
For budding professionals there are also several manual modes, including aperture control (to control the amount of light coming to the lens) and shutter speed to give more control especially when shooting fast moving objects.
In addition to the 16MP CMOS Sensor there's also a 1.9MP front facing camera. Focal length starts at a very wide angle 24mm and goes up to an impressive 240mm. Either you can zoom using the plus and minus buttons on the touch screen or you can use the sturdy zoom ring on the front to zoom in up to 10x. The Zoom ring can also be used to show detail in images you have taken on the 4.3inch display and is handy for getting close ups when shooting video too. All in all the camera works quite well once you have managed to switch it on!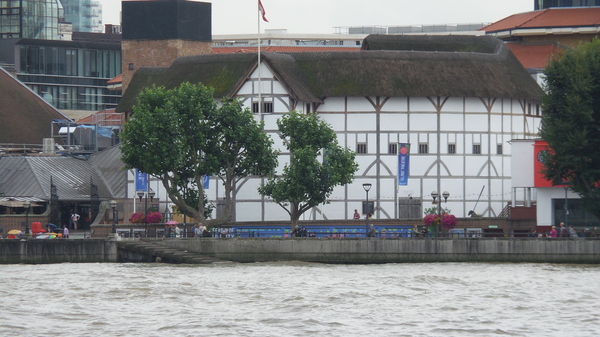 The globe theatre taken from the North bank of The Thames – click on picture for full sized image.
<
p style="font-size: 13px;">
A flower bed outside City of London School for Boys, taken using the camera phone's Macro mode. Click on picture for full sized image.
A view of St Paul's taken from close to the Millennium Bridge. Click on picture for full sized image.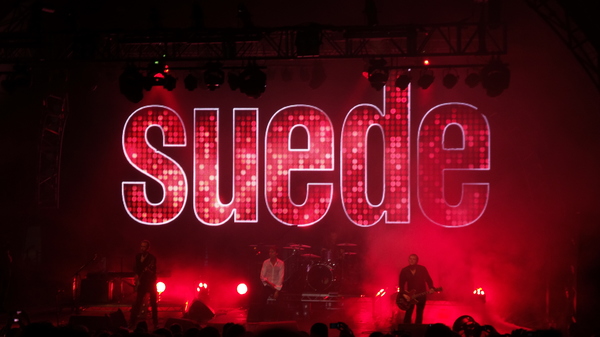 Suede on stage at Kenwood House, Hampstead, London. This was taken with Night Mode using the zoom lens. Click on picture for full sized image.

Verdict:
You know what they say about Jack of all Trades. Well never has this been more true of a device than than the Samsung Galaxy S4 Zoom. You have to applaud the manufacturer for continuing to innovate. If nothing else it gives journalists something to get their teeth stuck into. It's just this particular model doesn't quite work. As a camera phone it's not bad, but there are better. As a camera it's much better in terms of quality than any other smart phone I've ever used. But there are limitations – most notably that it adds considerable bulk/weight to the phone and the camera takes much longer to switch on than a standard compact camera
3/5
For latest tech stories go to TechDigest.tv