Interview: Digital Dudz founder and former NASA scientist Mark Rober talks about his 'smart' clothes range
Share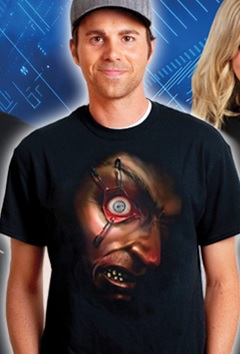 It's not every day you get to interview a former NASA scientist, but that's exactly what Mark Rober was – at least until two months ago. One of a team of about 4,000 people working on the Curiosity Mars Rover, Mark had an idea a couple of years back that would change the course of his entire career.
After doing a Facetime chat at a party with two iPads attached to his front and back so it looked like he'd blown a whole in his body, he came up with an idea for a gruesome digital clothing range, later to become Digital Dudz. "Within hours of putting up the YouTube video we'd made all the money we'd invested in the product and design back in sales," enthuses the young rocket scientist turned entrepreneur.
Now the range comprises six spooky T-Shirts and two iWound bibs which you wear under your clothes to look like you've got a gaping flesh wound or an exposed torso revealing your beating heart. Nice.
The really clever bit though isn't the actual clothing, it's the smart phone app that Mark has developed to interact with the clothes. "What we've been able to do is turn a relatively cheap item like a T Shirt into something worth hundreds of pounds thanks to a processor in your smart phone that is actually more powerful than the one we put in the Mars Curiosity!"
The idea is really quite simple. Digital Dudz has created a range of free designs which you download from its app store onto your digital device (iPod Touch, iPhone, Android). The smart phone then sits inside the £25 T-Shirt or bib to give you the desired effect. A personal favourite of Mark's is the Haunted Mansion Portrait T-Shirt inspired by Scooby Do, though during our interview Mark was wearing the frantically moving eye ball shirt which I must admit was a bit unnerving. "I got some funny looks at first from customs officers when I landed in the UK wearing one of the shirts, but then they seemed really enthusiastic and wanted to know how it all worked."
So what next? Well Mark has just sold Digital Dudz to Scotland-based 'fancy dress' company Morph Costume Company and has left NASA to work full time on new digital designs from California. "For years the fancy dress market didn't really change. It was the same old boring pirate costumes," explains Rober.
"Now we can simulate a flesh wound revealing a beating heart or even thousands of maggots inside a zombie pirate costume." It might not be everyone's cup of tea – but it's sure gonna get you noticed.
You can order the T-Shirts and i-Wounds here
You can see my interview with Mark Rober on YouTube below:
For latest tech stories go to TechDigest.tv