Scrivener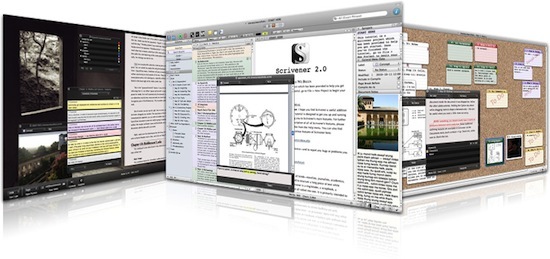 Scrivener is the ultimate piece of software for aspiring writers. Though
 it has (comprehensive) word processing features, it really shines as a
 document managing tool. Making use of a workflow inspired by a corkboard, it lets
 you chop and arrange snippets of text into one giant whole manuscript, letting you
 write out a scene or character idea (along with archived notes and images), file it
away, before piecing all the parts together to compile your final novel. That's a very
basic overview of the potential of Scrivener, which has more features than we
could possibly cover here . We urge you to visit its website to find
out more; any budding author or scriptwriter will find it an invaluable too. It's available
on Mac and PC.
Share
Your great unwritten novel. We've all got one, right? Sitting on the back burner, never to see the light of day beyond the flicker of an idea hiding at the back of your mind for God-knows how many years.
It doesn't have to be that way! If the prospect of writing your book has been daunting in the past, let it be known that there are plenty of applications that can help get your creative juices flowing, as well as making organising your novel incredibly easy. As part of Tech Digest's eBook self publishing season, here's our pick of 10 essential applications for authors.