Shiny Media donates to GOSH, thanks to O2 Recycle campaign
Share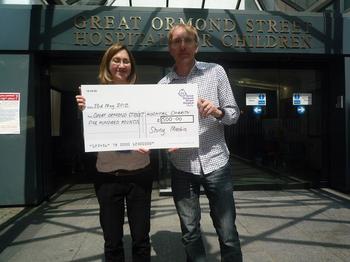 Tech Digest's recent partnership with mobile phone company O2 has resulted in a donation of £500 to Great Ormond Street Hospital.
The campaign saw Shiny Media staff members, friends and readers donate their old phones and electronic items to O2 as part of the company's recycling campaign.
The donation will go to Great Ormond Street's Kiss It Better Fund for research into the causes and treatment of childhood cancer.
And if you are interested in finding out more about recent cancer breakthroughs go here.
Pictured above is Shiny Media's Managing Director Chris Price presenting the cheque to Great Ormond Street Hospital. If you would like to donate to Great Ormond Street Hospital directly you can go here. And if you have old mobile phones to sell there is more information on O2's website here.
Below is a YouTube video which explains how the O2 Recycle campaign works (sorry about the shaky camera work)..
For latest tech stories go to TechDigest.tv