Richard Branson's Virgin Money launches with impressive projection mapping display
Share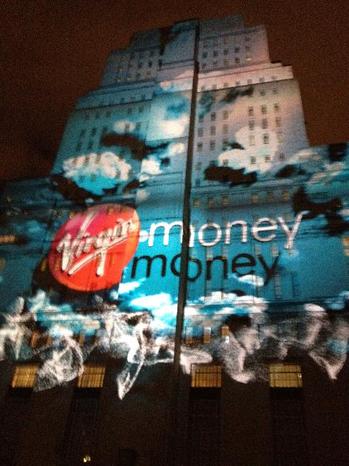 Sponsored post
Banking has come a long way since the images of middle aged men in grey suits, bowler hats and drab coloured high street banks.
It seems Virgin entrepreneur Richard Branson is not only planning to shake up the tarnished reputation of the banking industry – but actually make banking sexy.
At least, that is, if last night's official launch of Virgin Money at central London's Senate House is anything to go by.
In town to promote his new banking concept, Richard Branson himself kick-started the launch with a fantastic projection mapping display on the side of the iconic building.
Featuring 20 projectors throwing out a massive amount of light across the 200ft high building, the 270 degree display both looked and sounded amazing.
The two and a half minute ad featured iconic images from the Virgin stable including hot air balloons, trains, planes, even space shuttles. And at the end of the dazzling display the Virgin Money logo appeared with the strapline: "40 years of better. Now in a bank."
Later Richard Branson told the BBC:
"People are suspicious of banks and they have good reason to be after the last few years.
"The Virgin brand is well trusted and has always offered good products in a range of different businesses..We think we can come in and shake up the industry."
Virgin bought Northern Rock at the end of last year and plans to turn all 75 branches into Virgin Money branches during 2012.
Click on the YouTube video below to check out last night's projection mapping display:
<p><br />
    Virgin Money<br /><br />
     World&#39;s first 270&#730; projection<br /><br />
    <br /><br />
    <a rel="nofollow" href="http://www.ebuzzing.co.uk" target="_blank"><i>Sponsored Post</i></a></p><br />
<p><br />
    &nbsp;</p><br />
<p><br />
    &nbsp;</p><br />
</wbr></wbr></wbr></wbr></p><br />

Viral video by ebuzzing
For latest tech stories go to TechDigest.tv