Nissan LEAF revealed: World's first purpose built 100% electric car
Share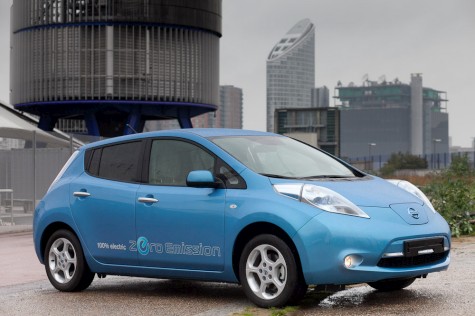 Nissan have today lifted the covers off their new LEAF design, the world's first purpose-built 100% electric family car.
Clocking up 100 miles for just £2.50's worth of power, and requiring only half an hour to get an 80% battery charge, it's green credentials and budget benefits are plain to see.
The timing also couldn't be better for the LEAF's UK reveal. With the Government's just-announced 1p tax increase on fuel set to hit driver's pockets hard, many may be swayed more than ever towards the benefits of electric vehicles.
Research consultancy, Frost & Sullivan forecasts more than 100,000 sales of EVs in the UK by 2015, and the LEAF itself already has one high-profile fan in the shape of cycling star Lance Armstrong.
"Anytime you talk about technology — if it's a computer, or if it's a phone, or if it's a bicycle — you always talk about 'next level,'" says Armstrong.  Next level is the stuff that just blows you away. The LEAF was just really, in my opinion, what I would call next level."
The public will be able to see the car for the first time at the Innovation Station at today at London's O2 Arena, before driving off on a nationwide tour.
The free exhibition also features fun driving sims, a virtual car design programme for budding engineers and interactive games that show visitors how electric vehicles can change the way people will drive and live in the future.
Here's the hard facts about the Nissan Leaf, as stated in its press release:
Length: 4445mm
Height: 1550mm
Width:1770mm
Wheelbase: 2770mm
Price: £23,990, including £5,000 Government incentive for ultra-low emission vehicles and the recently announced 20% VAT rate, both to be introduced from January
On sale: March 2011, with reservations available online via www.nissan.co.uk/leaf

Battery Capacity/Power: 24kWh laminated lithium-ion battery / over 90kW

Electric Motor (power/torque): High-response synchronous AC motor (80kW / 280Nm)
Running costs: 2.5p per mile or £2.50 per 100miles
Range: Around 100miles on one charge (US LA4 Mode Test)

Top speed: 90mph approx

Charging: Can be charged at home on a regular socket at 13amps
Standard charge: 8-10 hours for standard full charge

Rapid charge: 30 minutes for rapid charge to 80% state of charge
Design: LEAF is a purpose-built electric vehicle, not an existing model that has been modified to house battery technology

Innovation: Integrated Smartphone control, allowing drivers to interact with the vehicle remotely, including heating and cooling the car and monitoring its charging process. Touch-screen satellite navigation showing distance available on current charge and location of nearest charging points
Additional benefits: No VED car tax or London congestion charge. Further tax benefits include no benefit In Kind tax (fuel and car) for company car user-choosers and no National Insurance Contributions for fleet managers.
For latest tech stories go to TechDigest.tv