Olympus WS-760M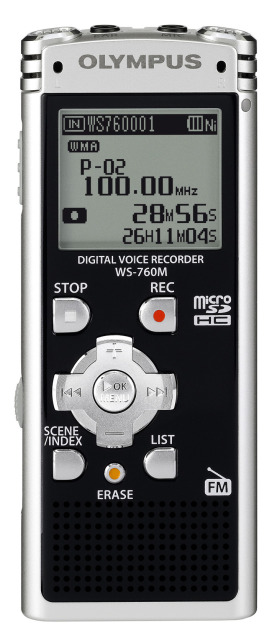 Top of the pile is the Olympus WS-760M, priced at £139.99. It
features an FM tuner with FM recording, and has 8GB of internal memory,
which can be increased via a microSD slot. A built in USB connection allows
for simple charging of the device, as well as quick and easy access to the files
stored inside. Noise Cancellation helps to enhance the sound quality and a
Virtual Zoom Microphone allows users to focus precisely on a single,
distant audio source.
Share
Olympus are readying three new devices to add to their long line of voice recorders. The WS range come in three flavours (WS-760M, WS-750M and WS650S), each with auto-recording functions that save battery life by only capturing sound once it reaches a set threshold, and MP3, WAV and WMA playback for some soothing sounds during the daily commute. Each also features a Low Cut Filter, ideal for situations with lots of background noise, and a Voice Filter setting that lowers high and low frequencies, to emphasise the mid-range human voice.
Check out details of each individual recorder below.