Review: Sharp Aquos Quattron HDTV
Share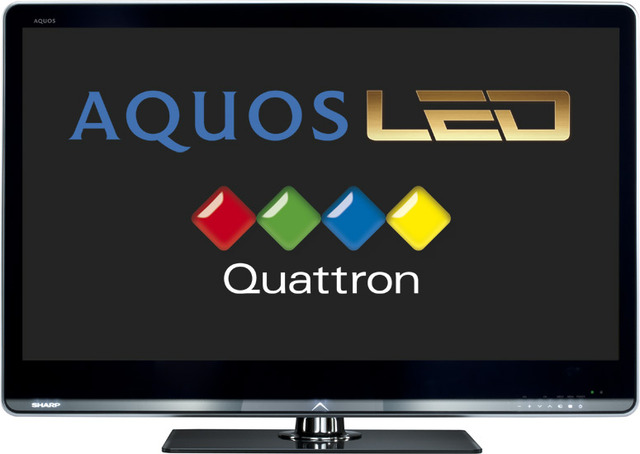 Name: LC-46LE820E Aquos Quattron (Sharp)
Type: 46″ LCD LED Backlit HD TV
Specs:
Contrast Ratio: 6,000,000 :1
Resolution: Full HD (1920 x 1080p)
Connectivity:4x HDMI, 1x VGA, 1x USB, 1x Scart, Composite adaptor
Speakers: 2x 10 watts speakers
Dimensions: 1127mm H (including base) x 785mm W x 39mm D
Features: Quad-pixel technology, LED backlighting, 100Hz motion processing, DLNA home networking
Price: Circa £1,400

(NB. The LC-46LE820E model we were sent to test was a European model that did not feature the HD Tuner that we have been assured comes as standard on the UK model. Therefore any HD sources described refer to either a Sky+ HD box or PS3 and its built in Blu-ray player)
While the rest of the industry has thrown itself head-first into the 3D TV race, Japanese manufacturers Sharp have taken a different tact. They've been working on what they've dubbed quad-pixel technology, which they've stuffed into their new range of Aquos Quattron HD TVs. It adds a fourth yellow pixel pixel to the standard red, green and blue make up used by other sets, which they claim will redefine colour processing in TVs. But just how revolutionary is the quad-pixel technology? Read on to find out.
The 46 inch LC-46LE820E Aquos Quattron set we tested was quite a sight to behold. Incredibly slim, with a curved black bezel that features a near transparent strip along its bottom edge, it's a very attractive set in terms of design. Either sitting on a metal base with glass support or wall mounted, it features an illuminated Sharp logo (which can be switched off if you prefer) and a few simple, touch-sensitive controls on its right lower edge.
In terms of the actual aforementioned quad-pixel technology, the set's "big sell" if you will, it's not quite as revolutionary as Sharp would have you believe. There's no denying that colours are incredibly vibrant and defined, but you'll be hard pressed to note a remarkable difference between the Quattron's colours and similar top-end models from other manufacturers. Sharp apparently are planning to introduce the same technology in their forthcoming 3D sets, which can suffer from colour and brightness issues, so perhaps its influence will be more noticeable there. For the time being however you're getting solid if not ground-breaking colour response here.
With that said, picture quality on offer here is still very impressive. Sharp by name, sharp by nature, the set delivers 1080p HD images in great detail, providing you've tweaked the (frankly atrocious) out-of-the-box image settings. There are plenty of colour and sharpness options to play about with, and messing with them can lead to some excellent results in picture quality. Blu-ray playback of "The Road" revealed startlingly deep black levels, fine detail in its post-apocalyptic setting, and managed to show excellent definition between the movie's somewhat muted colour palette. Conversely, Blu-ray playback of manga animation "Paprika" showed just how vibrant the colours can be with the Quattron, with the vivid cartoon really shining on the screen.
Sharp's image processing techniques also seem to have been given a bit of a overhaul. The 100Hz motion technology present here leads to perfectly smooth action scenes in movies and games, though we'd suggest avoiding the highest settings as they can make certain scenes move a little unnaturally. Likewise, the TV handles standard definition sources with aplomb, tidying up the image without causing any glaring artefacts to appear.
It's also worth noting however that the glass panel over the screen's display was incredibly reflective, even in relatively low light. It didn't make the TV un-watchable by any means, but it was quite annoying at times, and is definitely worth considering if your living room is a bit of a sun trap.
The Quattron's speakers are worth applauding. As ever with a screen not even an inch thick, they will never compete with a dedicated sound system, but the clarity on offer here is commendable, as is the bass response in comparison to other slim-style TVs.
Sharp make great use of the massive screen real estate on offer here when it comes to displaying menus. As I mentioned earlier, the preset image settings are pretty poor, so initially at least you're going to be fiddling around quite a lot with menu options. This is made far easier thanks to the way the TV intelligently scales the entire image around the menus when tweaking settings like colours, allowing you to see exactly how the changes you are making are affecting the picture. The intuitive menu system also makes navigating the set's basic home-networking capabilities nice and easy (allowing you to play back MKV files, HD video, photos and music from either a USB or LAN connection), though it's no replacement for a dedicated media streamer.
Lastly, the remote control. It's a little long and thin for my personal liking, but it is light, intelligently laid out, and seemed sturdy enough to withstand a few bumps and drops. It's also got a dedicated button for sending the set into ECO mode, which should help save on the electricity bills of anyone too lazy to turn the set off the old fashioned way.
All in then, its a very strong set. It's quite expensive at around £1,400, and the quad-pixel technology doesn't really justify such a high premium. It remains however a top notch goggle-box, with sharp HD pictures, vivid colours and speakers far better than its rivals, and is well worth your cash so long as you aren't expecting the visual revolution that the adverts have touted.
4/5
For latest tech stories go to TechDigest.tv