PC World launch new range of touchscreen All-in-One PCs featuring Sony, HP, Dell and Packard Bell
Share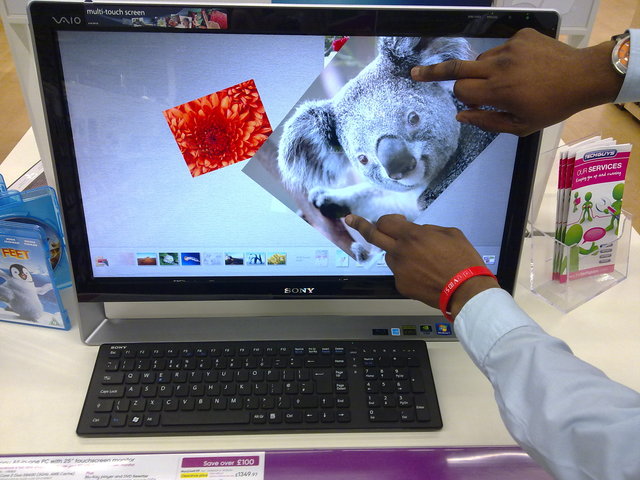 PC world have launched an extensive range of touchscreen All-in-One PCs, featuring gear from Sony, HP, Dell and Packard Bell.
Top of the pile is the Sony Vaio L11S1E/S All-in-One PC (pictured). Featuring a 25 inch multi-touch touchscreen, the Sony Vaio L11S1E/S packs in a Core 2 Duo (E8400, 3.0GHz) processor, a 500GB hard drive, Windows 7 Home Premium OS and a GeForce G210M graphics chipset. There's also a Blu-Ray drive for showing off the monitor's full HD capabilities. It costs £1349.99.
Next up is the HP Touchsmart 600-104uk All-in-One. This 23 inch touchscreen PC features an Intel Core 2 Duo T6400 (2.00GHz, 2MB Cache) processor, 4GB of DDR3 memory, a 1TB hard drive, a 256MB NVIDIA GeForce G200 on graphics duties and a built in digital tuner. It'll set you back £1199.99.
Packard Bell's sleek-looking onetwo 8020 comes in at £999.99. That bags you a 23 inch touchsreen All-inOne with an Intel Core 2 Quad Q8300s processor running at 2.33GHz, 1333MHz with a 4MB cache. There's also a 1 TB hard drive, 512 MB ATI Radeon HD4530 graphics chip, a DVD rewriter and a built in TV tuner.
If you're looking for a touchscreen All-in-One on a tighter budget, the £499.99 Dell Inspiron 19 CDC is worth a look. It features an Intel Celeron E1500 Processor running at 2.2GHz with a 1MB cache, a 19 inch multi-touch display, 3GB of DDR2 RAM and a 320GB Hard drive.
All are available now from PC World.
For latest tech stories go to TechDigest.tv