BenQ launch their hand-sized LED GP1 projector
Share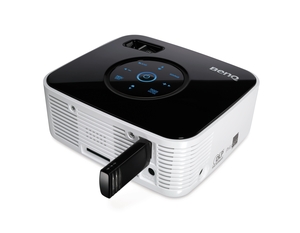 BenQ today launched their tiniest projector to date. The sultry GP1 is a lamp-less, PC-less portable projector with a USB port. It's not as small as the Acer K10 Pico Projector and not as cheap as the Samsung SP400B, so what has this little projector got to offer?
Well it can project an automatically keystone corrected image up to 80 inches – that's a 6ft 8-inch image! That's bigger than Peter Crouch! Bigger than Michael Jordon! On your wall! In your house! Exclamation mark!
The GP1 does away with unwieldy video ports, opting instead for one consolidated breakout cable for your traditional composite and VGA cables. The GP1 also flexes a nigh-on pointless 2 watt speaker. But at just 12cm x 13cm x 5cm and weighing just 640g, who can argue if it's a little hard to hear, its got plenty of audio outputs after all.
But really, it's the in-built media player which sets it apart from the competiton. Just stick in your pen-drive full of video and off you go. You can even play your PowerPoint presentations without having to hook the GP1 up to a computer. Not bad.
But at a whopping £499, a full £150 more expensive than SP400B, the BenQ might struggle in an already busy market.
For latest tech stories go to TechDigest.tv