Tesco to sell top spec Medion PC: Every little helps… but a lot is probably better
Share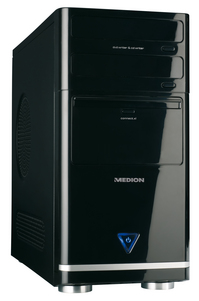 For Tesco, taking one out of every £8 spent on the high street simply isn't enough, as it's now after an even bigger slice of the "expensive desktop PCs" pie – they'll be stocking the seemingly top-spec Medion's Akoya P36888 desktop PC for £599.
The computer itself is thoroughly decent (at least by my "Does it run Firefox and Twhirl?" standards), which explains why it's so expensive. It has a 2.4ghz Intel Core 2 Quad processor, NVIDIA GeForce 9300GS 256MB graphics card with DVI, TV and VGA out, a terabyte SATA HDD, 3GB of DDR II SDRAM, on board surround audio, a gigabit ethernet card (What, no wireless?), firewire, and even packs in Blu-ray drive that can also read and write CDs and DVDs, and a Freeview TV tuner. So I think you can consider this pretty much future-proofed.
It looks pretty nice too.
Related Posts: It's a bit like this one, really | And slightly better than this one
For latest tech stories go to TechDigest.tv