IFA 2008: Epson EH-DM2 Projector, for those who want their own bat signal
Share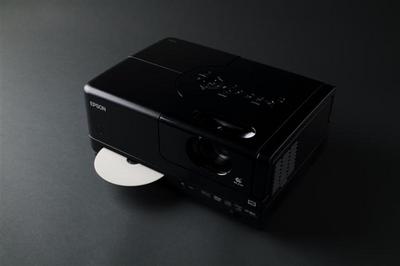 Are you an Epson projector affectionado? Do you have an irrational compulsion to own the complete Epson set? Do you spend your weekend mornings meeting up with other "Epson-heads" to show off your machines and compare lumens? Maybe you even push your kids into following your Epson hobby too, getting them to live out your own failed Epson projector dreams? If so, you were probably pretty happy this morning when Epson unveiled four new projectors. I've got some further good news for you – but not for your "Epson widow" wife – they've announced yet another projector… the EH-DM2.
Boasting a 1200 ANSI lumens lamp and HD and widescreen support, what makes this projector interesting is that it comes with a built in DVD player that cannot only read DVDs, but also DivX files that you might burn to DVD. It also has a USB port for connecting up with USB memory devices and digital cameras and the like, and this can be used to create picture slideshows where you can even use your MP3s as background music, meaning that the age-old tradition of boring an extended family to death with 600 holiday photos doesn't have to die with the death of the slide projector.
The good news is that it looks like it'll be slightly cheaper than those we posted about earlier – setting you back only around £499.
Related Posts: More projectors | And even more projectors
For latest tech stories go to TechDigest.tv