CES 2008: BlackBerry to get SlingPlayer Mobile application
Share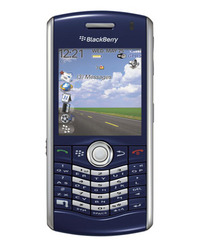 Sling Media has announced a BlackBerry version of its SlingPlayer Mobile placeshifting application, which will be shown off at CES next week running on a BlackBerry Pearl 8120 handset.
The app is due to be released later this year, and in the UK, existing owners of the company's Slingbox will just have to pay a one-off £19.99 fee for the BlackBerry app. The Pearl 8120 is a good choice, since its built-in Wi-Fi means you'll be able to stream TV without paying through the nose for data charges, when in range of a hotspot or network.
The company says BlackBerry users have been clamoring for SlingPlayer Mobile for some time now. The news is also more evidence of how BlackBerries are becoming more consumer-focused devices, going beyond their traditional stomping ground of push-email and business apps.
Sling Media website
Related posts
SlingPlayer Mobile software now available in UK for selected Nokias running S60
Mac version of SlingPlayer now available in the UK
Shiny Review: Blackberry Pearl 8120
For latest tech stories go to TechDigest.tv