Sorry, little fella. You're not getting in. The Jedi is among a list of people banned from creating profiles on the world's most popular social networking site. I should note that he hasn't tried registering himself, it's been uncovered by a Japanese author named Hiroki Yoda…
It's the time of the year when a man's thoughts turn to what kind of new cool trainers he's going to wear while not leaving the house this summer.
So you might want to consider these. They are about Star Wars. They use the Star Wars font, legally, and have the classic and proven chassis of the Adidas Super Star going-outside show for sporty people as a base. They will be ideal for putting on your feet and placing beneath any PC desk for 12 hours at a time.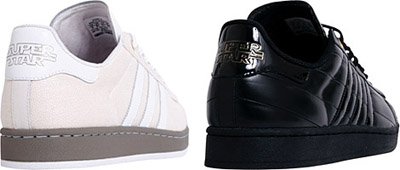 I love how these Star Wars slippers from ThinkGeek epitomises geekiness in every extremity. Can you imagine sitting back, playing Lego Star Wars on your PS2, and having these bad boys warming your tootsies up?
As with all decisions you make in life, there's the good and the bad option – do you sheath your feet in Jed-friendly Yodas, or evil Sith-like Darth Vaders? The decisions, the decisions. After you've tossed up the pros…