JBL have updated their iPad speaker the system, the OnBeat, with the new OnBeat Xtreme dock. Showcased at IFA 2011, the OnBeat Xtreme lets you dock an iPad in either landscape or portrait angles, and offers crisp, room filling…
Adding to the cornucopia of laptops we've looked at today, Rock has announced four new models — two each in its Xtreme and Pegasus ranges.
All feature up to Intel Core 2 Extreme X9100 or T9500 processors (using Centrino 2 technology for quieter, more efficient operation), nVidia GeForce graphics processors, 15.4-inch widescreen, up to 8GB of RAM, two megapixel webcam, Wi-Fi, DVD or Blu-ray reader / writer, and up to 500GB hard drive.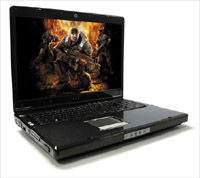 Hardcore power laptop specialist Rock has just announced its new Xtreme SL8, which it believes to have the hardest-rocking graphics card of any laptop on the market right now.
Coming with two NVIDIA 8800M GTX graphics cards for full SLi power and an Intel Quad-core brain, it's pretty hard to argue with its power boasts. Plus the SL8 can also be fitted with a 1TB RAID array for storage space beyond your wildest storage space fantasies…