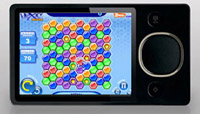 There's a big, high-brow and important gaming convention going on right now in San Francisco, called the Game Developers Conference.
Such joys as the inevitable Gears of War 2 for Xbox 360 (coming this November) have been revealed so far, but elsewhere, Microsoft also announced plans to expand Zune into a portable games machine…
Once upon a time, ALL computer games were developed in people's bedrooms, y'know. This was in the days before you needed a hundred-strong team and multimillion-pound budget to make a top game (although the downside was that instead of Lara Croft, our heroes were more likely to be cartoon eggs called Dizzy, or skiing blokes named Horace).
We've reported on the XNA Game Studio Express before, and today Microsoft released this software that allows anyone to create their own Xbox 360 game using Windows XP. They've also launched the XNA Creators Club, and a global game…