Nobody actually buys these workstations, do they? I mean, the only reason companies create treadmills-cum-workstations is for laughs, right?
This one really takes the cake, and err, will ensure you always have cakecrumbs littering your bedsheets. Roll it over your bed, pop your laptop on the mechanical arm, and you can stay in bed doing…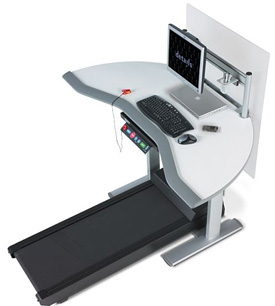 Hands up – how many people would purchase this Walkstation, thinking they'd be able to fit in at least an hour's exercise each day as they plough through their RSS feeds, but after a week, it's start accumulating dust as the couch in front of a Hollyoaks episode is more appealing than jogging whilst surfing.
Priced at $6,500, you'd think consumers would be able to afford a personal trainer for that amount of money, but…