Buffalo's MiniStation TurboUSB hard drive, launched back in February, has had a bit of a makeover to make it more friendly to Mac users.
In truth, it's always been usable with OS X, but now the casing has turned a shade of white, which possibly makes it more attractive to Apple-ites.
Four capacities — 160GB, 250GB, 320GB and 500GB — and fully compatible with OS X's Time Machine, or indeed any other software backup solution you might happen to use…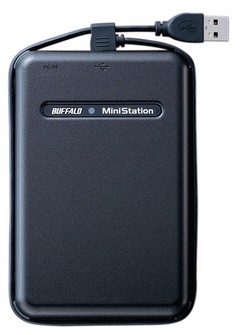 Buffalo Technology has announced the availability of an enhanced range of MiniStation and DriveStation products, now featuring TurboUSB technology which is supposed to significantly improve the speed of file transfers and overall performance.
The TurboUSB MiniStation is a portable, shock-resistant USB 2.0 external hard drive, offering up to 64% better file transfer rates than traditional USB 2.0 hard drives. It features a wrap-around cable, tough armoured outer case, and shock-absorbent internal design, and is able to draw its power from the PC via a powered USB port or hub. It will come in 80GB, 120GB, 160GB, 250GB, and 300GB capacities.
Buffalo's TurboUSB DriveStation is intended for users who want to easily back up their files, and boosts file transfer speeds by up to 37%. It comes in capacities of 250GB, 320GB, 500GB, 750GB, and 1TB. The unit features an auto-setup function, auto power-on, and auto-backup scheduling.