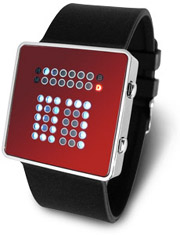 We always end up mentioning the new developments down at the insane offices of Tokyoflash, thanks to their regular output of exciting watches with interesting looks.
Tibida's particularly striking, thanks to featuring 42 little white LEDs. Which, it is rumoured, well-trained wearers are able to interpret to use as a rough guide about what the time is. Or, at least, what the time is near.
Fortunately, the new Tibida comes with a handy visual guide that explains exactly how you're supposed to tell what the time is with it.
Here's how it works: