'Sleb gossip blogger, and all round idiot, Perez Hilton has been suspended by YouTube.
No, it's not due to his ridiculous hair, or his even more ridiculous choice of video content – it's due to him posting 'a very critical video about their practices." What on earth could the self-touted 'Queen Of All Media' criticise about YouTube, to get his account suspended?!
According to a video he posted on a new YouTube account just a few hours ago, it's due to a video he uploaded on…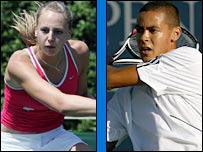 Beware, Bebo/Facebook/MySpace users, it seems there's an international move led by employers, cracking down on their minions by spying on them through their social-networking sites.
Following the story yesterday about the Nintendo employee fired for keeping a blog, it's been publicised today that two of Britain's brightest tennis stars, David Rice (the second-best British junior) and Naomi Broady (the national Under-18 champion) have both been suspended. The Lawn Tennis Association…