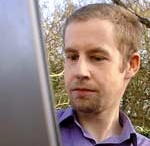 Andy Merrett writes…
I'm looking forward to the imminent release of the iPhone, even if it is taking place thousands of miles away from the UK, but it seems that every day someone has a new theory as to exactly when the iPhone will start being sold, and an utterly convincing reason for why they're right.
The latest date is June 29th, and that's true because a local manager in one of the AT&T mobile phone stores saw an email telling her. Apparently, they'll all arrive in the dead of night (or maybe, mid afternoon) on June 28th, ready for packs of hungry iPhone fans (and not the occasional eBay scammer) to swoop in and sign up.
That doesn't necessarily negate the "official letter" from AT&T telling staff that annual leave during this period would be discouraged.