Amy Winehouse has become the latest high-profile target for hackers. A collective known as Swagger Security or "SwagSec" (and not to be confused with LulZSec, who recently disbanded) gained control of www.amywinehouse.com long enough to deface the stars page. Though…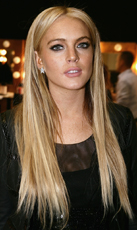 Dear Lindsay,
If the word on the street is correct, you left rehab on the weekend after two months of detoxing and avoiding your court order of one day in jail taking care of your mind, body and soul. Now, we've seen how easy it is to fall off the wagon once you leave rehab (Britney Spears, Pete Doherty and Amy Winehouse can surely attest to that), so it's more important than ever to ensure you look after yourself, Lilo. That means no hard partying with Paris and Nicole, no more dangerous older men (unless you can snag Johnny Depp and pimp him to me occasionally), and please god, no more firecrotch flashes. I don't think my stomach can cope with that anymore!
Surely you know how to use a mouse, so just click on the button below, saying 'Continue reading', otherwise get your assistant to do it for you, and read my top five gadgets for keeping healthy now you're out of rehab. It's for your own good Lindsay, and ours too – we've been rather enjoying reading about Britney's downfall in the Metro newspaper every morning, and sadly there's just not enough space for you anymore. Stop sobbing, and take a look below….