Nearly 40 former employees of Infinity Ward, the development team behind the mega-successful Modern Warfare franchise, have brought a $500 million lawsuit against publishing house Activision. The employees are claiming for half a billion dollars in unpaid royalties and bonuses,…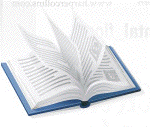 Leading book publisher HarperCollins has announced a dedicated web site to allow mobile phone users to browse excerpts of more than a dozen new book releases.
Despite the title looking like a vain attempt to cash in on the iPhone craze, the opening line of the press release actually states that "The publishing world is hooking up to the iPhone". Really.
Though any mobile browser could theoretically access the site, it does seem as if the service has been specifically designed to match the look and feel of the iPhone. Users can view up to 10 pages of any book's first two chapters, and are able to shrink or enlarge the print size.

The Wall Street Journal ran an interesting article over the weekend suggesting that blogging is now ten years old.
According to the article, the first blogger is "regarded by many to be Jorn Barger", who "began his business of hunting and gathering links to items that tickled his fancy, to which he appended some of his own commentary, on Dec. 23, 1997."
What appears to be closer to the truth is that Jorn Barger was the first person (or one of the first people) to coin the phrase 'blog', because other sites reckon that blogging has been around for much longer than a decade.