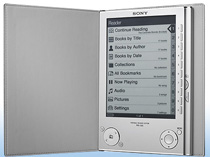 Manga and other books may be coming to the iPhone via downloadable services from network providers, but for those who don't plan on forking out over £1,000 for one of Jobs's little gizmos, Sony may just have the answer you're looking for.
Sony first launched their Reader Digital Book a year ago this month, and are following it up with a second-gen version, the PRS-505, which will be on sale later this month. Costing $300 from Borders stores and Sony's website, it will be available in silver and dark blue, able to store up to 160…
E-Books. Still not big. But give it time: the publishing industry and technology firms are gradually getting themselves into alignment to give e-books a proper marketing push.
Sony's Reader device could be at the forefront of that, particularly now it's getting two new models with more internal storage and tweaked controls. The new models are both called the PRS-505, with one being silver and the other being blue.