HANNspree's latest PC monitor, the LED-backlit HANNSG HL245, is now available to buy online. With a 23.6 inch anti-glare display at a 16:9 ratio, the monitor is capable of Full HD playback at a native resolution of 1920 x 1080….
If you haven't got the cash (or the space) for both a high-end PC monitor and HD TV, Samsung may have an all-in-one solution to suite your needs in the shape of the SyncMaster FX2490HD. Doubling up as both a…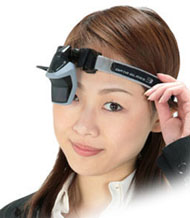 Japanese tech company Shimadzu has created this fashionable piece of headwear for the discerning Facebook addict – the DataGlass HMD.
You whack it into your USB socket and are greeted by the impression that a 10″ monitor screen is floating in front of about two feet away. But only in front of one of your eyes.