If you're dead keen on nature, but you're also dead keen on your sofa and not going out into the cold and rain, then you might be interested in this product from Cornish specialists HandyKam. It's a Cedar birdhouse with an intergrated feeder, but also an integrated colour digital camera.
The birdhouse comes fully assembled – all you've got to do it put it up a tree, add the camera into the fake ceiling of the construct, and then wire it up with the 20m component cable provided. If that's not quite long enough, then they'll happily sell you 10m, 20m or even 50m more. Power is also supplied via this cable.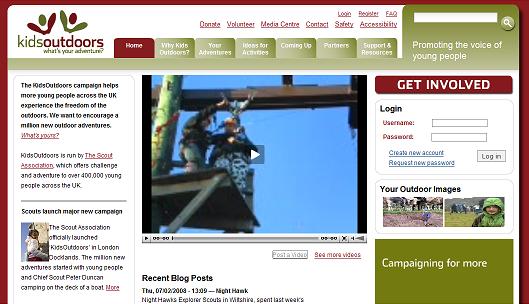 After discovering through the largest survey so far that children and teens are spending less time than ever outdoors, the Scout Association has brushed up on their web design skills and launched their Kids Outdoors Campaign today, complete with spiffy web 2.0 flourishes.
They've got videos! That you can upload and share yourself! Share your photos of your kids getting sporty! They've got blog posts! They've got a tag cloud! They've even got a little log-in section on the top right-hand side, so you know they know you know they know their stuff! It's just a shame about the poo-green colour scheme.
Their aim is to raise £10million…