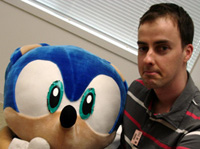 Gary Cutlack writes…
So it looks like HD DVD has died. That doesn't bother me much as I can't tell the difference between HD and normal telly from the comfort of my uncomfortable DFS sofa, so I'm yet to bother upgrading to any new movie formats.
But my "old" DVD collection is huge – although it only covers a relatively small period of time, back when DVD was the hot new thing.
It starts in late 1999 when I blew a ludicrous £500 on a Sony DVD player (that broke after 18 months…