Too many temporary workers were used at a Foxconn factory in China where iPhones are built, Apple has admitted, in response to a report by a campaign group. Apple is reliant on the Taiwanese firm to build its iPhones, with the newest models expected to be unveiled in San Francisco on Tuesday. The China Labour…
The fact that Motorola's RAZR is the best-selling mobile in America one of those inexplicable regional events that defies all logic. Americans just like it and its flimsy, feature-light charms. So much so that it's consistently been the best-selling phone out there for the last three years.
But not any more, as recent stats have shown that Apple's popular-with-everyone iPhone has overtaken it, shifting 6.8 million units in the last business quarter. The RAZR was pushed down to second and RIM's Blackberry Curve came in third, followed by LG's Rumour and enV2…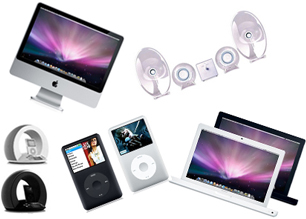 Crazy Steve Jobs has unleashed his CRAZY WAREHOUSE PRICES on the UK market, for today only. And we're all in for a big treat, as not just are the Apple products discounted, but other products too, from Logitech, JBL, Ferguson Hill and even Canon.
Highlights in the sale bonanza include MacBooks for £668 (discounted from £699), iMacs for £768 (down from £799), 80GB…