Social media users struggle to identify ads posted by influencers and clear labelling is crucial to let consumers know when they are being sold to, according to a report. The Advertising Standards Authority (ASA) said its findings dispelled any argument that labels are not needed and re-emphasised the importance of influencers being clear and upfront…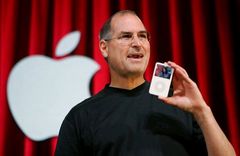 US music magazine Blender has crowned Steve Jobs the most influential people involved 'behind the scenes' in web music.
They view Jobs as a technology trendsetter, thanks to the iPod and iTunes
"The iTunes Store and the iPod have done more to change the way people listen to music than anything since the CD, and maybe since the sound recording," said Craig Marks, Blender's editor-in-chief.