Zeal Optics are really upping their game with their latest pair of ski-googles, the Transcend GPS model. With a whole host of location-aware features, these shades are one-part eye protection and one-part fighter-pilot HUD techy-goodness. But is the addition of a screen little more than a novelty, or a full-blown Robocop-on-the-slopes experience?
We've just been given the full details on the Vuzix 920AVs that I posted about on Friday, and gosh, they look more exciting than I had anticipated. Remember how I said that they seemed to be the non-interactive version? They're not – there's an option to fit them with a "6-Degree of Freedom tracking sensor and/or Stereo Camera Pair".
That means that you can mix images from in front of you with virtual content. Imagine looking down a street, and seeing little markers come up from famous buildings saying what they are, or the ultimate Sat-Nav system which can tell which way you're looking and show you which way to go with a line on the road.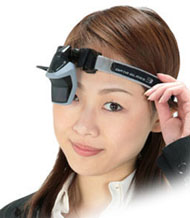 Japanese tech company Shimadzu has created this fashionable piece of headwear for the discerning Facebook addict – the DataGlass HMD.
You whack it into your USB socket and are greeted by the impression that a 10″ monitor screen is floating in front of about two feet away. But only in front of one of your eyes.