Yes, it looks like a stunted dildo. But this isn't a dildo. It's the previously reported-upon iMu "Singing Table" that'll turn any surface you place it on into a speaker. Awesome, right? Shame it costs £50.
I know! £50! I couldn't believe it either. Seriously, what are you going to use this thing for? Especially as it plugs in to mains power. If you can think of a situation where this would be a lifesaver, and a cheap pair of travel speakers wouldn't, then let us know in the comments.
If this isn't your new best friend, then I'm shocked. Look! It's a bipedal flame-head robot! According to BotJunkie, it walks just like a human, which is no easy feat for designers of robots to accomplish.
Measuring 1.3m tall, it was developed by a Ph.D student, Daan Hobbelen, who used seven motors, balance organ and springs to ensure it has a smooth gait, like that of you or I. Check out the video below the jump of Mr. Flame Head in action…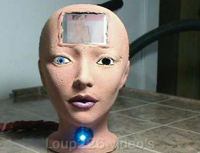 Sounds like a bargain – until you see what your $30 actually buys you. You get a sort of disembodied pink head with a big hole in its forehead.
Apparently it can… well, we're not entirely sure. It was made by a foreign man who doesn't go into very much detail. But if you watch his 'Making Of' video you can just about make out things like VGA leads and other cables connecting it to a PC…