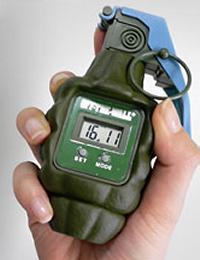 Explosives have no place in the modern bedroom. You can tempt someone back to your place by telling them you're dynamite in the sack, but if that turns out to be actual TNT, you'll be sleeping alone.
However, the Hand Grenade Alarm Clock is just about acceptable, seeing as it doesn't actually wake you up by exploding in your face.
Phew, my wrist is really blown up at the moment. What? Is it sprained? No, you fool, it's because I'm wearing a watch that looks a bit like a grenade. Geddit, eh, EH?