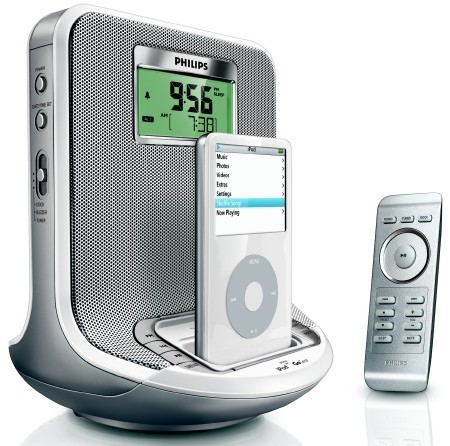 Philips has gone into dock overload mode, as it prepares to launch seven docks that will provide "an extensive choice of how and when to connect and listen to devices". Woot!
The range includes the compact AJ300D (pictured above) which is ideal for use in the bedroom (or anywhere you might fall asleep) as it features a dual wake-up alarm, in-built radio tuner, and iPod and Go Gear dock connection. It has five speakers using Philips' wOOx technology that promises deep and powerful bass reproduction. Price £69.99.
Next up, the DCM230 has both an iPod / Go Gear dock, and USB Direct function that allows any other portable music player to be connected via USB. The two speakers each deliver 15W of power. Price £199.99.