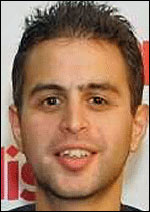 Jonathan Weinberg writes…
Two days into the week and TWO Facebook security threats appear. The first in The Guardian on Monday warned secret code from FB's inner-workings had been published on the internet prompting warnings of a security risk for users. Boring! Code, schmode, it's far too technical.
But then this piece of wonder appeared today in The Times and it's far more worrying, not least because everyone I know does it – and also because it involves a frog!
Freddi Staur is a cute green frog who has stolen email addresses and mobile phone numbers from users on the social network website – in an experiment to show how easily people give out their personal information to strangers…