Full of World Cup fever or fed up with football altogether? Well Sony have announced a new trade-in scheme that should have something for every footy fanatic or footy-phobic Pocket Reader owner. Teaming up with HarperCollins, Sony are launching a…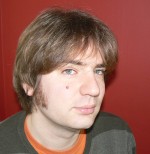 Stuart Dredge writes…
I'm feeling a bit guilty today, after my blast at Frank Lampard yesterday. Maybe it was a bit harsh talking about his cat-bum mouth and Barcelona-wannabe status.
After all, it wouldn't take much for him to get me back onside – start playing well for England and don't release any more autobiographies until he's won a World Cup, and we'd be sweet.
Underperforming humourless wannabe-Barcelona midfielder Frank Lampard has got his own mobile TV channel. It's called Frank TV, and is being launched by Orange as part of its drive to persuade more people to watch telly on their phones.