The Samsung Galaxy S4 may have not made it to CES 2013, but the world was offered a glimpse of what's almost certain to be one of its major components at the show – the eight (or Octo) core Exynos…
ZTE may become the first smartphone manufacturer to offer an eight-core handset, if the latest rumours are to be believed. The ZTE Apache is being tipped as the first "Octo-Core" smartphone, and may even touch down in early 2013, ready…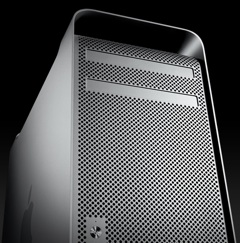 Nothing's really going to eclipse Apple's iPhone announcement at Macworld last year, which clashed delightfully with CES 2007. Yet Apple has chosen, a week ahead of Macworld, to push out a new, high-performance Mac Pro.
Using two of Intel's 45 nanometer Quad-Core Xeon 5400 processors running at up to 3.2 GHz, the newly designed system boasts up to twice the performance of the previous Mac Pro — and that was no sluggard.
Other notable inclusions are up to 4TB of internal storage, ATI Radeon HD 2600 XT graphics card with 256MB as standard, up to 32GB of memory, PCI Express 2.0 graphics slot, support for the latest generation of graphics cards from NVIDIA, and the power to drive up to eight 30-inch displays at once.