The 2010 General Election is almost upon us, and after months of long, hard campaigning up and down the streets of Britain, it's turned out to be pretty riveting, nail-biting stuff. A real three-horse race for the first time…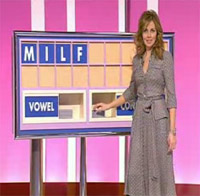 Some YouTube videos stay with you long after the first viewing. Sometimes because they have scarred and terrified you, other times because the sheer stupidity on display has lowered the bar further than previously thought possible.
Here are the 10 YouTube classics we go back to time and time again, for endless free entertainment – and have even considered trying to work out how to save to our computer just in case YouTube ever breaks or closes, such is their 'national treasure' status.
1. Carol Vorderman spelling out MILF on Countdown. Could literally watch this on a loop 24-hours-a day without any other form of stimulation whatsoever. Would pay to watch a three-hour loop of it at the cinema. Would buy an HD Blu-ray loop of it. And it'd still be hilarious in 2012. She doesn't even understand, the poor thing…