One of my favourite TV shows is The Daily Show with Jon Stewart. Every night the American late-night talk show provides a devastating and hilarious take on the day's news – with a heavy slant towards a serious news agenda…
How do you like them apples, Apple?
After bravely turning its back on Apple's iTunes thanks to rows over money and royalties and charges and the like, American telly juggernaut NBC has started releasing its shows via the… Zune shop. What's the Zune shop called? Anyone have a clue? MicroStore? ZuneTunes?
Whatever the Zune shop is called, it now hosts more than 800 NBC-owned 'properties', with shows coming from the likes of Comedy Central…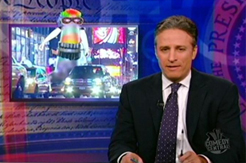 Finally, something to do on the coming winter months now that huddling outside crack dens clutching spoons isn't a smart idea. Unless you want pneumonia.
Finally getting their asses into gear, Comedy Central has given The Daily Show With Jon Stewart its very own website, due to launch today at noon EST. Only a few short hours, get those fingers poised on F5 already…