Great Scott! It's the first official trailer for the Back To The Future videogame, being developed by TellTale games, the brains behind the Lego movie game tie-ins. An episodic adventure series, you'll race back and forth through time in…
Paramount has become the first movie studio to offer up an extensive collection of clips from its movies on Facebook.
Using the VooZoo service, Facebook users can send "Voohoo" messages to their friends, containing video snippets from famous films, ranging in length from a few seconds to entire scenes…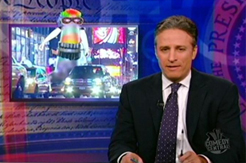 Finally, something to do on the coming winter months now that huddling outside crack dens clutching spoons isn't a smart idea. Unless you want pneumonia.
Finally getting their asses into gear, Comedy Central has given The Daily Show With Jon Stewart its very own website, due to launch today at noon EST. Only a few short hours, get those fingers poised on F5 already…