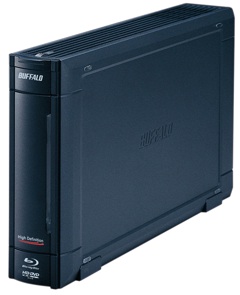 Buffalo Technology has announced that it will be launching a range of external DVD and high definition disc PC drives in Europe.
First up will be a top-of-range device capable of reading and writing to Blu-ray discs, and reading HD DVDs, as well as handling standard DVD media. It will come bundled with disc authoring software from Nero.
If you haven't yet invested in an external hard drive, consider the MiniStation Turbo jobbie from Buffalo, which Alex has reviewed here. Does it earn your hard-earned £49.95? Read on below to find out…
There are so many compact external USB hard drives around these days, that it's hard to differentiate between them. In some cases it's extra value – a large capacity for a low price – and often it's just looks, as in the case of the Pininfarina-pimped SimpleTech drives. But Buffalo's Turbo USB claims to improve transfer speed by up to 64%. That's compared to a 4200 RPM HDD, but it should also be substantially faster than a similar 5400 RPM HDD.
I was testing the Buffalo shortly after some other standard drives, so was able to run a pretty fair comparison and conduct something more akin to a group test. Most of these had a slightly higher capacity – usually 160GB – than the Buffalo Turbo's 120GB. But did it really improve on performance?…