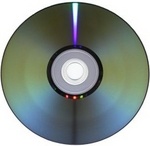 Exactly 25 years ago today — August 17th, 1982 — Philips manufactured the first compact disc, at their factory near Hanover, Germany.
Co-developed by Philips and Sony, over 200 billion CDs have been sold in that time.
The first CD to be manufactured at the plant was "The Visitors" by ABBA, though the initial catalogue of CDs launched in November 1982 were mainly classical music recordings.
Unsurprisingly, Japan were first to see CD players and discs, with European and US consumers getting hold of the technology in March 1983.