We just – ahem – hoovered up some information about several new Dyson vacuum cleaners which will be available from next month, the Dyson DC22 Baby and Dyson DC24 Ball.
Probably targeting the yummy mummy clientele with the first model, it's a compact cylinder model which is actually one-third smaller…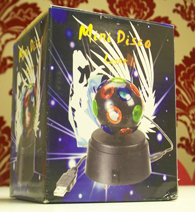 Unfortunately you've missed the boat on the Circus Cannon, iSharpener, Missile launcher and 'Cutie' fan competitions, as they've all ended today (stop sending entries in for them, please!), but you now have a chance to win something just as good, a USB mini disco.
With thanks to Brando, you have until 6PM Monday 3rd December to enter a competition to win this special disco ball which normally retails for $16.
Take a look below the jump for details on how all British residents can win this brilliant prize…