London's Metropolitan Police Service has thought up a great way to spend a bit more money – advertising for super-grasses via Google's ubiquitous Adsense text ad system.
The advert, spotted by a blogger and pictured to the left there, encourages web browsers to report any "Right Wing Extremists" they know to the authorities, while clicking on the ad's text link takes you to the Met's anti-terror home page, where you're advised in a bit more detail what to do if you think your mate is running a bomb factory out of his studio flat in New Cross. Here's how The Met says you can spot a terrorist…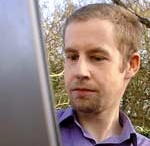 Andy Merrett writes…
University authorities have "warmly welcomed" the news that Google is to refuse advertising from companies which offer to write research essays for students.
After recent complaints from various universities that students have been passing off essays that they've paid for as their own, Google has decided to refuse these ads.