Autonomous vehicles to drive automotive sensor growth, IDTechEx finds
Share
IDTechEx's new report "Autonomous Cars, Robotaxis and Sensors 2024-2044" shows that autonomous cars are slowly, but very surely, becoming a part of everyday life.
Although they have been hyped and overpromised for a long time, in the last couple of years the industry has accomplished some significant milestones. The US and China both now have a handful of cities allowing commercial robotaxi services from industry leaders such as Cruise, Waymo, Baidu, AutoX, and more.
Europe, on the other hand, has been ploughing ahead with private autonomous vehicles. First, the Mercedes S-Class was given SAE level 3 certification in Germany, meaning that for the first time, drivers could let the car drive for them in very limited conditions. BMW has now entered the mix as well, saying that it will be certifying the 7-series and i7 for level 3 use by the end of the year.
Whether it be a futuristic robotaxi shuffling you driverless-ly around a big city or a luxury limousine whisking you autonomously down the autobahn, there is one thing that all autonomous vehicles have in common – sensors, and usually lots of them. Environmental sensors are not new to the automotive market. Cameras, radars, and ultrasonics have been used across the industry for decades now.
So far, they have enabled advanced driver assistance systems (ADAS) such as adaptive cruise control and lane keep assist and have been used for safety features like parking sensors, reverse cameras, and automatic emergency braking. But these features can be enabled with very few sensors; typically, a single forward-facing radar and a couple of cameras can provide enough sensor coverage for a sophisticated SAE level 2 autonomous system.
But at level 2, the driver is still responsible for the vehicle, whereas at level 3, the driver can start to disengage from the task. Moving to SAE level 3 means entrusting the vehicle with far more responsibility than ever before.
To do this, OEMs need the vehicle to have the ability to thoroughly monitor its surrounds. As such, IDTechEx has seen through research for its report that level 3 requires significantly more environmental sensors than ever before. Mercedes, for example, uses eight cameras, five radar, and one LiDAR on its level 3 drive pilot system. That's a total of 14 sensors required for autonomous driving, a big step up from the handful of sensors typically seen on level 2 vehicles.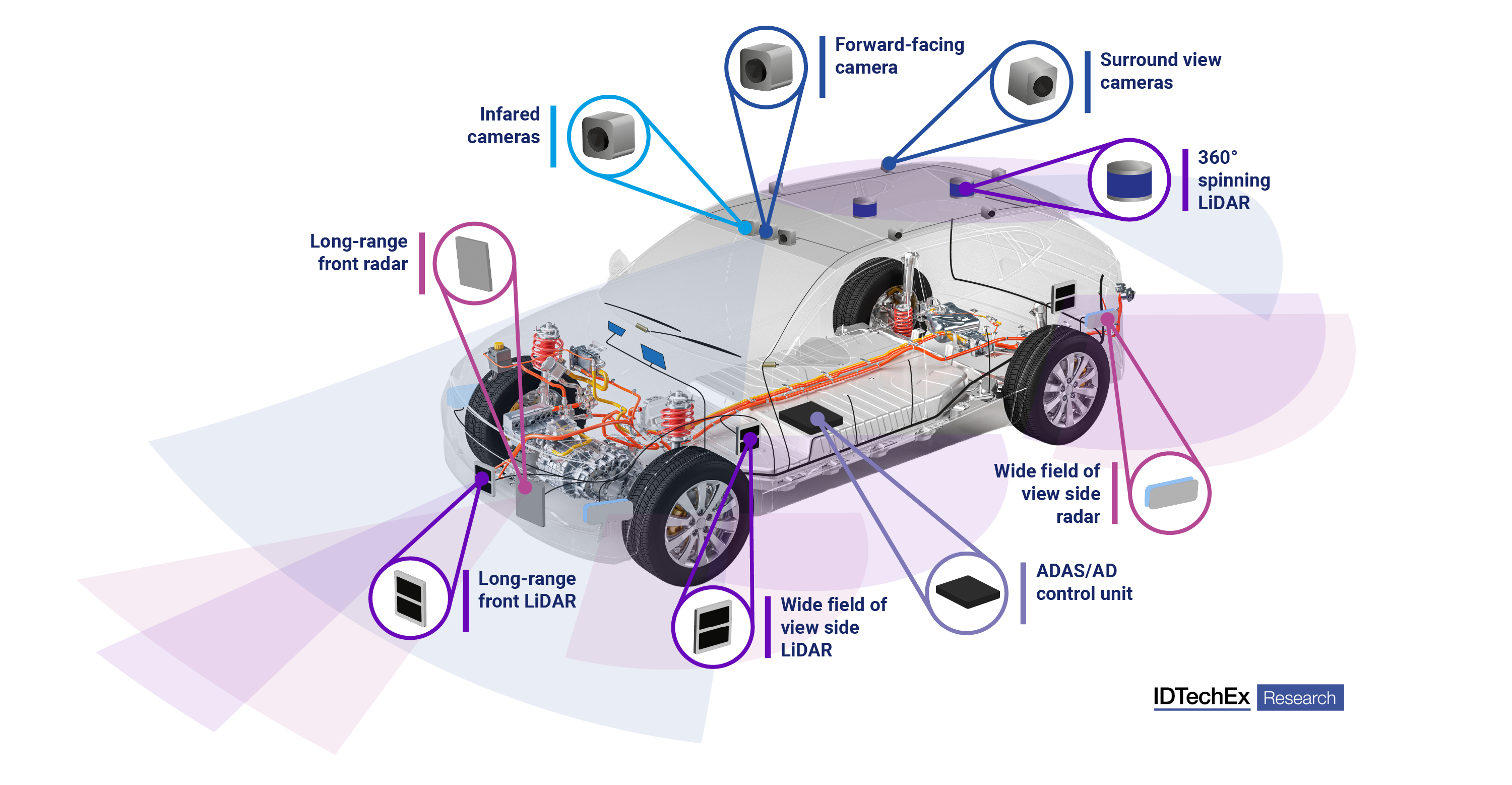 With level 2 vehicles only requiring a single forward-facing radar, level 3 clearly creates a big opportunity for the automotive radar market. For example, Level 3 vehicles are a beachhead market for LiDAR. LiDAR has been seen on vehicles before, and there are examples of vehicles that used LiDAR technologies in the early 2000s.
However, modern LiDARs, such as the Valeo Scala used by Mercedes and the Innoviz system used by BMW, are sophisticated sensors vital for enabling autonomous driving. LiDARs use narrow beams of laser light, typically scanning across the scene to build a highly detailed 3D rendering of the vehicle's surroundings.
Unlike cameras, LiDAR provides highly accurate ranging information, and compared to radar, LiDAR has significantly better imaging abilities, making it able to classify pedestrians at great distances. The technology helps to fill in the performance gaps left by camera and LiDAR, building a more complete and robust autonomous sensor suite.
For these reasons, LiDAR is a crucial sensor for enabling autonomous driving. The automotive LiDAR market is currently very small, with only a handful of vehicles deploying this futuristic sensor. However, the market will grow as autonomous technologies, such as those from Mercedes and BMW, become more common. This will allow prices to come down and make it possible for OEMs to include LiDAR on non-automated vehicles as well.
IDTechEx's report "Autonomous Cars, Robotaxis and Sensors 2024-2044" predicts that the combined automotive camera, radar and LiDAR markets will see a 10-year CAGR of 13%, all of which is possible because of the emergence of autonomous technologies within cars.
For more information on this report, please visit www.IDTechEx.com/AutonomousCars, or for the full portfolio of related research available from IDTechEx please visit www.IDTechEx.com/Research/Robotic

For latest tech stories go to TechDigest.tv