PK K'Ring and K'1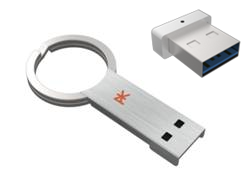 Let's start with the functional before moving on to the fun. These
two PK usb sticks are great if you need some portable storage. The K'Ring packs
8GB of storage and helpfully, is shaped like a keyring - so stick your keys on the
end and you'll have your files wherever you need them.

The K'1 on the other hand, is perhaps a more permanent solution. If your laptop
is running low on space, then why not connect the K'1 to a spare USB port and
leave it there? It's so tiny it barely pokes out of the top of the port - and provides
a 32GB storage boost. Crucially, it is a USB 3.0 device - so if your ports are
compatible then transfers will be super quick.
Share
All aboard the Universal Serial Bus! Destination: Productivity. Well, maybe. Here's our pick of six interesting USB gadgets that will – in some way – enhance your life.
CHECK OUT OUR LATEST 360 VIDEO WITH THE KODAK PIXPRO BELOW