Ford announce latest app additions to in-car AppLink system: TomTom join Spotify and others
Share
Ford Motor Company have taken this year's IFA 2013 tech conference to reveal a number of new app additions to the company's in-car AppLink system.
AppLink (which connects a smartphone to Ford's SYNC connected dashboard system) will welcome voice-activated versions of popular apps including navigation stalwarts TomTom and room booking service Hotels.com alongside already-announced partners such as music streaming service Spotify.
Other new additions announced at the show include apps from ADAC, Eventseeker, Audioteka, DIE WELT, Cityseeker by Wcities, Autoread and AskWiki apps from Deutsche Telekom Innovation Laboratories now optimised for the Ford SYNC AppLink tech.
With a growing number of apps hitting the platform, Ford will be introducing an App Catalogue for European users to help identify which apps will connect with the system, with AppLink already supporting dozens of apps across the iPhone, Android and BlackBerry operating systems.
According to Ford's Jim Buczkowski, director of electrical and electronics systems, the company already have 1 million vehicles kitted out with AppLink-enabled dashboards on the road around the globe.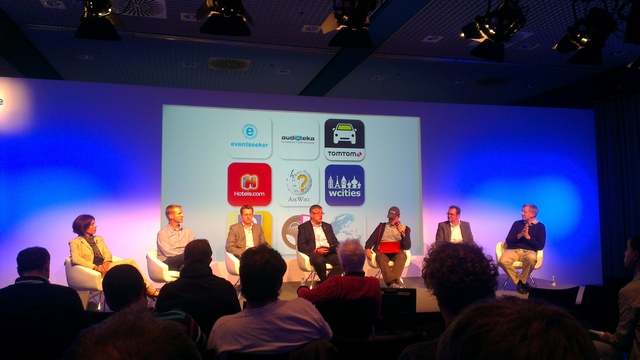 As well as the obvious benefits of on-the-road safety the hands-free AppLink system brings, Ford are looking to greatly expand the number of apps available through the system by offering up their open-source API to all would-be AppLink developers.
"The opportunity really is to embrace the creativity that exists out there", said Buczkowski today, speaking at Ford's 'The App Route' panel at IFA.
"Smartphones have created a platform for individuals and small groups to become innovators and really focus on consumer needs. The strategy we have with AppLink is to create a platform and interfaces that allows those developers to develop their applications and experiences from a phone and allow them to work in a vehicle."
And with the API open to other automotive companies, the potential audience for developers is vast.
"With an open source code, if they see an opportunity to integrate, they can do that really easily and leverage what we've built […] Not having to create something that's unique to each automotive, opening up the standard and allowing other automotives to join is really important in order to stimulate and nurture the creativity that exists in the developer community."
For latest tech stories go to TechDigest.tv